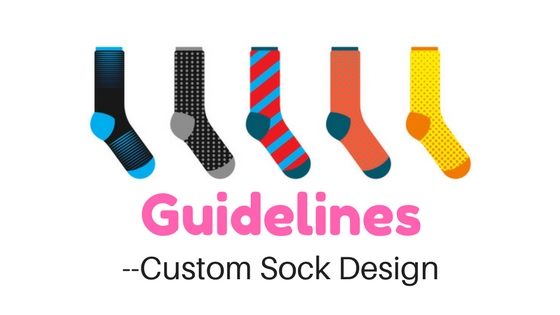 This Post is a guideline about custom sock design, make sure you read this carefully to ensure we can knit out your design on the socks.
Custom sock design guideline
Designing for socks and other knitted goods is a very different process from designing for printed materials. The following is a brief guide for you to understand how socks are designed from the first pixel on the screen to the last stitch of yarn on the machine.
Setting up a knitting machine for a single sock design is similar to preparing an offset printer to produce a single design for a printed good. There is a good deal of preparation and set up before knitting begins.
1. Creating a pattern
Classic patterns such as argyles, polka dots, and stripes are designs that consistently execute well. We have the ability to knit a variety of different patterns. To ensure that designs like these knit out well, we have several tips.
1.1 Repeating patterns
In repeating patterns, it's important to pay attention to the size of individual assets in the design. Keep in mind that designs on a sock stretch when worn. Too big, and the image will become very big as it stretches around the wearer's ankle or foot. Too small, and the design will not render legibly on the sock.
1.2 Colors
The number of colors used in a design will affect the execution of the sock. The general rule is to use no more than 8 colors in a single design (including the background, heel, toe and top colors), and of those, no more than 5 colors can change through one horizontal line of the sock. Generally speaking, the more complex designs execute better when fewer colors are used.
Every time color changes, the yarn of that color is cut and tied off inside the sock. The fewer cuts, the better – designs that have frequent color changes are bulkier, don't stretch as easily, and run a higher risk of knitting errors.
Color accuracy is one of the most important things combining design and production, below is a post on how to specify the right pantone TCX colors to ensure color accuracy:
2. Typography
Typography on socks: it is our suggestion that text on socks is kept to a minimum. A production file for knitting is prepared as a 168-pixel (for 168 needle machines) wide bitmap image. At this fixed size, the smaller the type, the poorer the legibility. If a logotype or byline must be included, we recommend placing it on the footbed of the sock. This ensures that the type will not be distorted by the stretch of the sock, and that the main pattern will not be interrupted.
3. Logos
Certain logos execute better than others when knit. Complex linework, color overlays, and gradients are very difficult to achieve and are generally best applied to custom packaging. Because of the fixed number of stitches in a sock, bold and simple shapes are typically best for sock designs.
Final Step: Transferring a design to a production file
Creating knit-ready file typically involves transferring a vector design or otherwise into a production sized bitmap image, which will be done by our skilled programming team. Our knitting technicians use this file to program a knitting machine to transpose each individual pixel in the file to a stitch on the sock.
Once your design is finished, we will review it to ensure it meets the required technical specifications. Please send us your native files and PDF mockup, and we will suggest any changes to make sure it will be the best sock it can be.
Download the custom sock design template kit:
Besides of this custom sock design guideline, we have specially designed a design template kit for you including sock design, tag design, band design, check out the post below to download it!
Ready for Production?
Read our post about detailed socks manufacturing process:
Also, Contact us about socks manufacturing service.
Acknowledgement: Content of this post is revised from that shared by SOCKCLUB.
https://www.meetsocks.com/wp-content/uploads/Guidelines-custom-sock-design.jpg
315
560
MEETSOCKS
https://www.meetsocks.com/wp-content/uploads/MeetSocks-LOGO-new2.jpg
MEETSOCKS
2017-11-13 02:42:18
2020-02-29 12:14:31
Custom Sock Design – Guideline