Firstly, you should agree with that a socks business is about making money, which brings us to sales and costs, so let's start with a real socks business(socks company) analysis. You might also be interested in start a business by promoting custom logo socks in your country.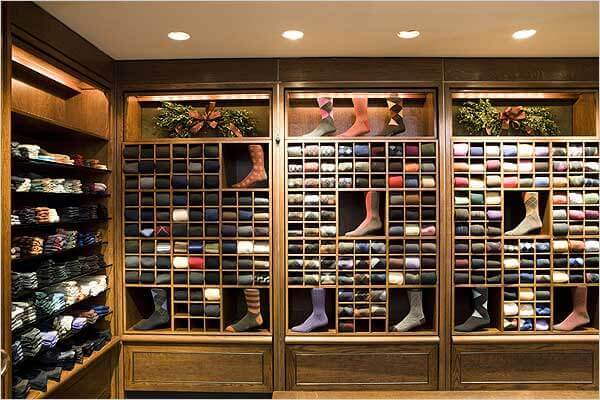 <Content Copyright : This post is officially from www.meetsocks.com/blog, thanks for stopping by>.
Note:
If you are starting a socks business with the help of local distributon networks, this article is perfect for you.
If you are starting a online socks brand, this article also works for you, except that you don't have the advantage of 'Natural local store traffic', and you don't have to spend money decorating your store.
This simple analysis uses a business strategy called 'TTPPRC', I will add a footnote if you needs further information.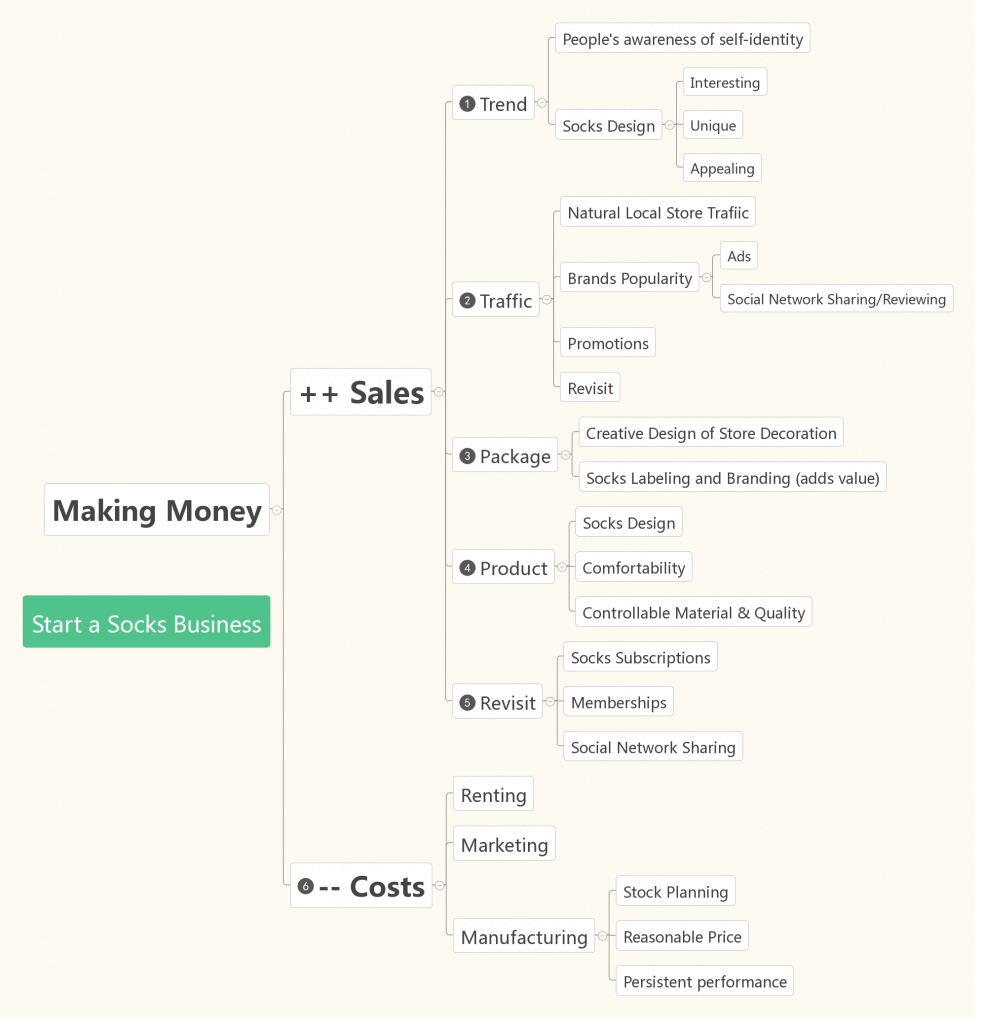 As shown in the mindmap, the frameworks looks like this:
Getting more sales

Trend in socks business
Getting traffic for your socks store
Packaging your socks & decorate your store
Always care for your products
Get more revisit (It's more easily to do business existing customers since you have already had some connections)

Spending less costs

Renting fees on store networks
Marketing fees
Socks Manufacturing costs
1. Getting more sales for your socks business
---
Teenagers need identity, there is a trend that people are using socks (as an alternative of clothes/shoes) to show their difference and preference of everyday life.
Customers has got tired of those black classic socks, they need something more bright, more characteristic.
A list of some online/offline brands:
JoyofSocks

Socketines

HappySocks

Sockittome
Getting traffic for your socks store
You will have some natural traffic since your store is open to the streets, this appears as one of your advantages, but do remember, you have to pay for the rents. In these stores you will execute some promotions so that your performance won't be so bad in the first couple of months after launching.
As you are pursuing more traffic to come, "brand awareness" is one of "the must-dos", you will publish advertisements (facebook, instagram ads recommended, where you can target to a very explicit audience, you can search in Youtube for tutorials) to create some sense of brand popularity, you can also offer discounts or whatever appealing so that people engage more in your social network accounts, thus influence more potential audience.
Packaging your socks & decorate your store
Packaging is important, as you are runing on local store networks, decorations are something that needs further attention, customers will step into your store because they love its style, otherwise they will just run away.
There are many online stores now runing a business called Dropshipping, They will launch a good-looking website, publish ads on facebook to target audiences that have interests in such goods, and when the website gets sales they will order from Chinese shopping platforms (like Aliexpress and Dhgate) to ship the goods dirtectly to their customers, same goods, 5–10 times of actual price. —It's all about decorating and style 🙂
Always care for your products
Never forget your products, and keep a solid relationship with your manufacturers. Money counts but it doesn't means everything, you should find a responsible manufacturer, I think you can feel it while communicating. If possible, please fly to China and have a face-to-face meet with the manager+sales representative, that helps you sleep well in the night 🙂
Get more revisit (It's more easily to do business existing customers since you have already had some connections)
Socks subscriptions (monthly, seasonly, annualy) are highly recommended, it helps you estimate your sales, also, helps with socks stocking planning which we will be discuss below
Memberships. Ask your customers to sign in your email lists, ( so that they will receives promotions at first time), small gifts giveaways are also applicable too.
Social Network Sharing again——Highest ROI action.
2. Spending less costs
---
Renting fees on store networks
We will not talk much about that, you must know about the local comercial conditons.
If you are starting an online store business, you should consider the cost of creating a socks website here.
As said above, facebook ads are more recommended, you can try Google adwords too.
I can talk about this whole day if you would like to hear, but I want to make it short here: Socks Manufacturing is just a small part of the whole line of business, many Chinese manufacturers will complain at earning low manufcturing fees, but they don't realise the importers (like you) are spending much more time planning, executing, and sustaining the business. So, everybody works and gets his own share, fair enough.
As you may be curious of the specific price of socks manufacturing, there isn't a specific number since it varies with your quantity, patterns, and yarns chosen. But here is an example:
for a custom socks order which contains 2000 pairs of socks, a common American/European manufacturer would charge you $5 or more per unit, but in China, Aha, you can get it at $1-2, or less. Also note that the world's top quality socks are mostly made in China. When people are talking about low-quality socks made-in-China, they are talking about 1990s or those made in small home-socks-factory.
3. Conclusions and Tips for starting your socks company
---
In conclusion, you will need following prepared to run the socks business:
Budget (Check our blog I will publish a post about budgets later)
Creative design (socks, packages, decorations, ads, etc, find some expert in these if you are not good in designing, PS: we MeetSocks also provides designing service)
Marketing strategy (You can do this by your own if you have effort)
A reliable manufacturer (hope you will contact me +_+ tired typing for 5 hrs for this article)
Check the list and the socks business mindmap, then you should be good to go. Good luck!
NOTE: If you want to find a responsible socks manufacturer, you can directly email to our sales service: [email protected]
https://www.meetsocks.com/wp-content/uploads/custom-sock-manufacturer-1920x806.jpg
806
1920
MEETSOCKS
https://www.meetsocks.com/wp-content/uploads/MeetSocks-LOGO-new2.jpg
MEETSOCKS
2017-04-26 13:43:44
2022-06-22 11:06:06
How to Start a Socks Business/Store?